I wrote yesterday that we were going out to one of our local Pagan Pride Day events. First, we had a good time. We got to catch up with some old friends and the kids had a blast. Lil' R spent most of the day in the dirt and he got to hear about his favorite rabbit friend, Rupert. To say that the kids were beat when we left is an understatement. They both went to bed early tonight but I am so happy with how well they behaved while we were there, even with missing their afternoon naps.
Unfortunately the vending was a bust.
The crowd was pretty thin and though I got some nice complements on my items I now have a good amount of inventory. I am getting pictures taken and everything up on the Etsy shop within the day. I've added to the hair bows with a group of Halloween themed bows. Each bow has a sculpted figure from polymer clay. I'm really happy with how these turned out and I plan to continue doing the figures in the future.
These are just 2 of the many new hair bows I put up.
I also finished my first fully original embroidery item. It's a Halloween bib that I call Bib-ity Boppity Boo, themed in black cats.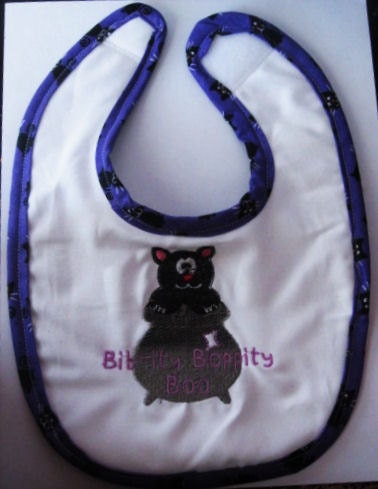 I did the bias tap myself which is something I just learned how to do the other day. It really isn't too tough once you get the hang of it. Look in the future of seeing many embroidered items and not just bibs. I have some Pagan toys for babies or toddlers I want to introduce that will also feature the embroidery.
I'm also considering vending at a Samhain festival in a few weeks done by Greensong Grove which gets a good attendance. We're debating the upfront entrance costs to decide if it is worth it. I'd hate to go to another event and not sell much. Today it was a free event but do I have variety of stuck to hold up at a full event yet? I don't know.
-Velody