It's Monday again.
Today is a really big day here. At 2 pm est I have an interview at the local community college about being accepted into their accelerated teaching program.
After months of fruitless job searching within my own field I'm thinking of taking my engineering degree and hopefully applying it to teaching public school math or physics. I'm still a bit in debate about that.
I'm so afraid I'm going to screw something up
so I don't get in but I've heard there are other avenues also. I do also worry because this means I'll be out of full time employment for quite awhile but I think we can make it.
---
New Shop Items
I put a few new things up in the shop this week.
I completed the Elemental Baby Cubes!!
Yes Finally!
I even made a video to better show them off and all the sounds they make.
I also made my first cross-stitch pattern.
This is based upon our I heart My Witchy Momma Patch. It's only $2.50 in the store. I would like to test it out so if some is willing to stitch it up, take a nice pictures and give feedback I'll provide a
free copy
.
Our first Embroidered Baby Hat is in the shop too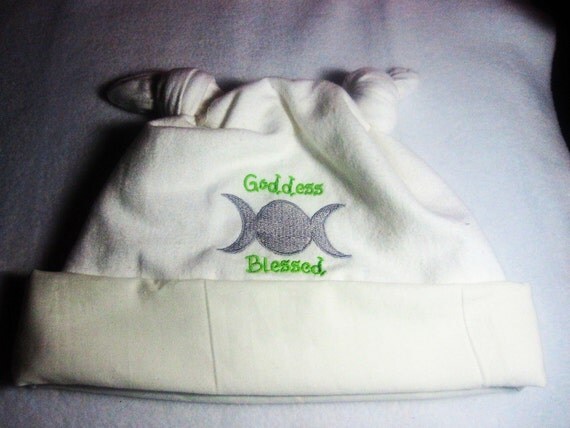 This already made hat will fit a
toddler
.
I will do custom orders for smaller sizes or different colors of thread.
I even have a picture of Wee Rose modeling it. She hates wearing hats so this picture took a bit of work.
The last item I made was a Call of Duty: Modern Warfare 3 Patch
It features the
Prestige Level 10 icon
along with the
MW3 logo
. The name is customizable to whatever text you would like.
Click on the pictures of any of the items to go directly to the Etsy shop.
---
Pagan Blog Party 2012
Last Friday I wrote up my first post for the
Pagan Blog Party
,
A is for Ancestors
.
As a result of the blog party being on Friday I've moved the tutorials to be on Sundays.
I had a lot of fun writing that post and look forward to writing the rest. What is shocking me though is how many bloggers are involved in this project now.
One Witch's Way currently lists 135 blogs on the list.
The Facebook group created has 178 members in it! Yes, wow! That's a lot of bloggers. I tried to go through and follow all the blogs but I'm sure I didn't make it through them all.
It's going to take a bit to get through all of those blogs each week. I'm still debating what my second A post is going to be. Should it be Aesir or maybe to be odd I'll do the Alfar.
---
This coming week I'm going to work more on
The Mortician's Wife's 21 Days to a More Organized Home.
Yesterday Hubby and I took down the last of the holiday decorations and while at it organized the garage a bit.
It isn't finished but it's better.
Also Lesley has brought up doing schedules for chores.
That is something I need to redo. I've done it in the past but it never seems to stick. Maybe I just haven't found the right system or I am too ambitious.
---
Do you have any plans for the week? Are the holiday decorations all down and organized yet?
-Velody