If you haven't noticed it's been very busy around the blog and shop this past week.
We have a Giveaway currently going for a Handmade Spring Matching Kids Game.
Yesterday we hosted the Spring has Sprung Blog Hop which is still open if you want to add a post to it. I still am making my rounds to each of the posts.
On the Job Search Front
I have a job interview tomorrow morning at a local High School as a temporary math teacher for Algebra & Geometry. I'm so nervous. I went and got my hair cut yesterday and dyed it myself last night. I just lightened it some because I'm a naturally a bit of a light-dirty blond if I don't spend much time outside. That's something I haven't been doing much of either. I'll get some pictures up later on the Facebook Fan Page and the Google + Page.
Please Good thoughts my way if you can spare the energy.
New Pentacle Patches in the Etsy Shop
We have 3 new listings up in the Etsy Shop. All are for 2 inch patches. We have the Triple Moon Symbols now available in 3 metallic colors. We already have a listing for them in the 5 elemental colors.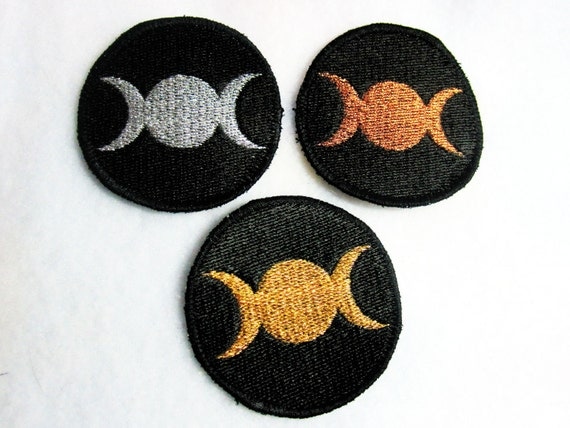 We also have 2 inch pentacles available in the 5 elemental colors and in 3 metallic colors.
Next Newsletter Coming Out Later this Week
I'm prepping the 2nd issue of the newsletter right now to come out later in the week. It'll contain links for PDF tutorials for both of Simple Spring Sock Chick and the Spring Children's Matching Game.
Also I'll be slipping in some links to a few awesome articles and a coupon code which will only run for a short time.
If you want to make sure you get your copy in your email box make sure to sign up! I promise I don't sell off email addresses and they will only be used by myself for the purpose of sending out newsletters.
---
Is it bad that something as simple as a hair cut makes me feel different?
I mean it's just a few inches of hair gone. Next though I need to watch some Youtube tutorials on tips to do my make up a bit better. I always feel like I either do it too much or too little. I can't find a happy medium.
I hope everyone has a Great Week!